Mel & Doris Porth Household Auction
PORTH HOUSEHOLD AUCTION
Sale Date: Friday, May 20, 2022
Starting Promptly at 10:00 a.m.
Lunch on Grounds
Location: 147 Memorial Drive, Hebron, NE
Restrooms Available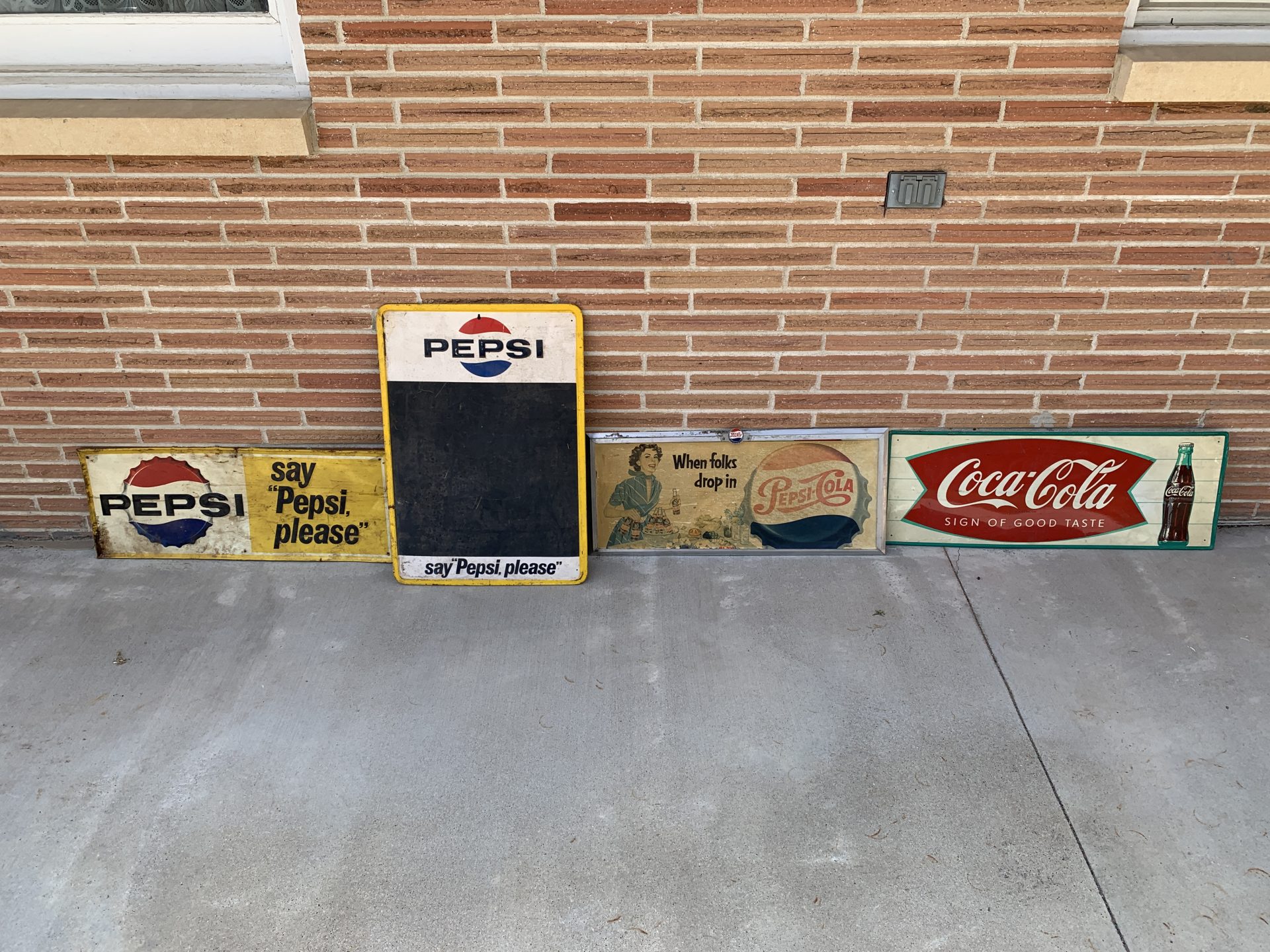 Find more photos in the gallery below.
Household & Vintage Furniture
2-Solid Wood Primitive Oak China Cabinets
Ornate Primitive Zink Top cabinet w/ Flour bin & Roll Front
2-Lorraine Wooden Boxes
Primitive double rinse tub stand
Double Pedestal Walnut Office Desk
Roll Top Desk
Oak Center Table 23" w/ ornate press on border & claw feet
Several Solid Wood Kitchen Bow Back 7 Mission Chairs
Oak Table & 6 Chairs, Set
Rosenthal Selb-Germany Pompadour China 12-place setting w/ serving pieces
Several Sewing Machine Cabinets 
Ornate Sewing Cabinet
Mission Wooden Pine table
Miniature Pitcher & Small Miniature Lamp Collection
Modern 4-Shelf Lawyers Cabinet
Beauty Rest Hide-A-Bed (Good)
3-Piece Pine Bedroom Suite
Sharp Microwave
Crock pots, bread machine
Set of 4 Kitchen Roller Chairs
Dining Room Table, leaves & 6 Chairs
3-Recliners, Brown & Blue 
30" Free Standing Jenn Air Electric Range w/ Grill & Exhaust
Amana Built-in Dishwasher
2-New Ceiling Fans
Bacon Grill, Stainless Steel Pots & Pans, Crock Pot, Bread Machine along with other various kitchenware
Rogers Bros. Sectional Silverware, Set of 12 plus other Flatware 
Antiques
Porcelain Coke Button Sign & Marlboro Electric Clock working 11" x 28"
Pepsi-Cola "When folks drop in" sign, cardboard w/ metal frame-13" x 29"
Coca-Cola tin sign, perfect condition
Pepsi-say "Pepsi, please" tin sign
Wooden Water Pump & Fairbury Cast Iron Water Pump
Wooden Primitive One-Way water pump valve
Dazey Churn #60
Pepsi Wooden Case
7-UP 6-pk w/ carrier
Pyrex Bowl Nest of 4, Fire King & other
Sparks Vintage Miniature Salesman Sample #75 Pot Belly Stove w/ box 11.5" tall X 7" wide
Goldberg Water Heater
B & C Rail Road Wrenches
Belding Corticelli Advertising Rack
Wheel Spoke Honing Tool
Jewell Tea Dishes, Western Pottery Crock Jug plus 1- & 2-Gallon Jugs, Advertising Crock Bowls
Ruby Red 1899, 1904 pitchers, black amethyst, clear glass spooner, hat pin holder & other unique glassware
Vintage Camera's, Brownie #3A & Others 
Several Vintage Wood Planes various sizes 
2" Post Vice
2-Wood Chuck Racers from Clay Center Kansas
Large Collection of Republican Campaign Buttons & Election Memorabilia 
1968 Aviation Calendar 
Books: Aviation, Rail Road, History, My Antonia by Willa Cather, Uncle Tom's Cabin & others
1938 Add-on 6-Volt Radio, Mantel Clock, 8-day clock & Coocoo Clock
Ornate Picture Frames 
Vintage Ken & Barbie Dolls w/ box, plus other porcelain head dolls
Vintage Auto Manuals
Vintage Wicker Basket, wood cloth dryer, paddle, vice & bow
Several Boxes of old vintage hardware & wooden fret work
Wood Keg & Collectable Glass Bottles 
Wooden Wagon Wheel, Cream Cans & Coaster Wagons
2-Brass Torches, 3-Kerosene Burners & Plumber Heat Pot
Old Phonograph & 78 Records
Steel Wheel Plant Stand
Miniature Electric Refrigerator
Toboggan 
Buggy Step
Tools
Case TL 100 Gas Powered trencher, 36"
Murray 10 H.P. Rider w/ bagger & 22" Push Mower
12" Vintage Adjustable Wrench
10' Aluminum extension ladder
Generac Gas Pressure washer w/ hose & nozzles, new
Router w/ stand
Hooks, bars, measures, screw drivers, hammers, files, nail pullers, pipe wrenches, fence pliers, air bubble, 3/8" electric drill, hand saws, braces, bites, squares, hatchet, 
New Battery Tester
Miscellaneous
Utility Trailer, 5' x 8' single axle w/ tilt
Floor Fan
El Camino, Mercury & other hub caps
Croquet Set
Coolers, Old Doors & Floor Mat
Garden Tools, Supplies, Blower, Trimmer etc.
Bonny Oak Stove
Board games, puzzles, Christmas & Easter Decorations
2 sets of Titleist Golf clubs
Bumper Tow Bar
Set of Steel Saw Horses
Large assortment of parts; Electrical, Auto, Plumbing, Nuts, Bolts & Vintage parts & pieces of all kind, too numerous to mention.
Photo Gallery
note: these pictures only represent some of the items available at this auction.
Auctioneer's Note:  Mel & Doris have decided to make the move to Courtyard Terrace after 89 years of living and will be offering a large assortment of unique and interesting items at their Auction.  Make plans to attend as many smaller items have been packed away for many years.
Seller:  Mel & Doris Porth
Sale conducted by: 
Brad Elting & Company, Inc.
145 North 4th Street
Hebron, NE    68370
402-768-7270